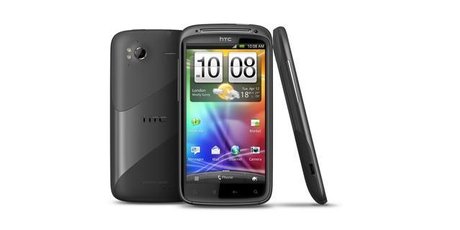 The list of chic features and specifications that separate top-end smartphones from the also-rans seems to change every week.
Right now a super-sized 4.3-inch screen, dual-core processing power and a decent iteration of the Android operating system are three of the key attributes required for a device to attain elite cellular status.
The $1100 HTC Sensation hits all the spec requirements and looks elegant to boot¸ making it one of the best large-screen phones out there at present.
First impressions
Phones with 4.3-inch screens often feel cumbersome in the palm but not the Sensation - perhaps because it has an ergonomically appealing curved back which makes it easy and comfortable to grip.
This curvaceous back casing is made out of a single piece of aluminium which gives the Sensation a reassuringly study appearance.
The 540 by 960 pixel touchscreen is a visual delight and HTC are quick to point out the pixel count provides for a 16:9 screen ratio, enabling "native" playback of video recorded in that ratio.
Mobile makers seem to have become obsessive in their desire to overlay the Android operating system with their own spiced-up user interface. In the case of this phone it's a thing called HTC Sense 3.0 - an elegant interface which performs some neat graphical tricks, but with a wow factor that wears off fairly quickly.
Hardware
As mentioned above, dual-core processors are the current buzz technology as phone manufacturers steroid-up the microchip muscles embedded in their devices. These more powerful chip sets are needed to deal with the proliferation of complex and graphically rich apps users are running on their phones.
In the Sensation's case, it is powered by a 1.2 GHz dual core Snapdragon processor from Qualcomm, which certainly appears to deliver enough grunt to keep everything running smoothly.
Befitting a visual media-focused phone with such a nice big screen, the Sensation is equipped with an 8-megapixel camera, can record HD video in 1080p, and has a front camera for video chatting (or using the phone's pre-installed "mirror" application to check your makeup).
One omission from the Sensation's otherwise impressive list of bells and whistles is an HDMI output port, a feature that is beginning to appear on other top-end media-focused phones.
Software
Setting up and synchronizing email and contacts was pleasantly simple on the Sensation. In theory it should be straight forward to sync any Android device, but so often minor gremlins pop up during the process. HTC seem to have anticipated and eliminated most of those nasties in this phone however.
In fact, their efforts to improve the Android operating system experience, through the addition of the proprietary HTC Sense 3.0 user interface that overlays the OS, is impressive but slightly over-the-top.
It's great that the phone will, without any prompting, advise you on the home screen of the current weather at your present location (thanks to GPS tracking) but its insistence on playing a short visual and audio clip for that particular weather theme gets old pretty quickly.
Verdict
This is a classy phone that delivers in terms of both features and performance. As always, the dilemma faced by anyone paying big money for a top-of-the-range device is that within months it will have been usurped by something slightly better and/or cheaper. But for now the Sensation lives up to its name.